Risk is exposure to the chance of loss.
Some risk are "Insurable Risks"
Chance of Loss :
Let's start out by identifying the areas in which you may be exposed to the chance of loss. Perhaps the most obvious is loss of property. Property would include your house, cottage, car, or your personal belongings. Thus, one example of loss of property would be having your house burn down.
Loss of Future earnings:
Another type of loss, one which we hear more and more about today, is the loss of money or future earnings resulting fromyour personal liability for: personal injury you caused to someone else (someone slipped on your front steps); destruction of another person's property (your son smashed your neighbour's bay window); or an error in the discharge of professional responsibilities (as an accountant you made a mistake in working on an audit which resulted in a $500,000 lawsuit!)
Exposure to medical expenses :
Another possible exposure is for medical expenses outside Canada (for example, you are hospitalized in Florida for two weeks as a result of a car accident and get a bill for $40,000). Each of these examples illustrates losses of money or future earnings. Fortunately, most of these "chances of loss" are insurable risks.
Loss of income due to sickness or injury:
As catastrophic as some of these losses may seem, many people face the risk of a much greater loss each day: the potential loss of income caused by sickness or injury resulting in pro-longed disability or pre-mature death. Consider for a moment what your ability to earn income might be worth.
What Your Ability to Earn Income Might be Worth
While we don't always associate pre-mature death with loss of income, if the deceased was gainfully employed, the loss is very real. Aside from the emotional trauma, thankfully, loss of income as a result of loss of life is an insurable risk, with some exceptions and limitations. The magnitude of the financial loss can be very dramatic as the following chart illustrates.
| Years Left To Work | Monthly Income $3,000 | Monthly Income $5,000 | Monthly Income $10,000 |
| --- | --- | --- | --- |
| 10 Years | $ 432,220 | $ 720,366 | $1,440,733 |
| 20 Years | $1,072,011 | $1,786,685 | $3,573,369 |
| 30 Years | $2,019,058 | $3,365,096 | $6,730,193 |
Assumes 4% inflationary increases each year.
No doubt the value of your home pales in comparison to the potential loss of your future ability to earn income.
THE NEED FOR PERSONAL LIFE INSURANCE
Young Singles/Young Couples- cover off any debt including debts with co-signers,  final expenses, does your family history have significant health issues?
Young Family – debts, mortgage, final expenses, ongoing income needs, education fund
Maturing Family- debts, mortgage, final expenses, ongoing income needs, education fund
Pre-Retirees- debts, mortgage, final expenses, ongoing income needs, final taxes
Retirees – debts, final expenses, leave a legacy, final taxes
CORPORATE LIFE INSURANCE
The need for corporate life insurance. The video outlines the 4 stages of a business and demonstrates the need for insurance in each stage.
Launch stage – Cover off any debt, Founder/Key Person, Buy Sell
Growth stage – Cover off any debt, Founder/Key Person, Buy Sell, Business Overhead Expenses, Buy Sell
Mature stage – Cover off any debt, Founder/Key Person, Buy Sell, Business Overhead Expenses, Buy Sell
Transition stage – Founder/Key Person, Buy Sell, Business Overhead Expenses, Buy Sell, Retirement, Succession/ Exit Planning, Estate Equalization
Critical Illness Insurance*
Critical illness insurance is an insurance policy which will pay out a tax-free cash lump sum to you in the event that you suffer a major illness or health condition. As life expectancy increases due to improvements in the early diagnosis and treatment of conditions such as heart disease and cancer, those living with the after-effects of such health problems has increased and, for many, the burden of extra costs associated with such illnesses can be significant. Such costs can include the need to make up for lost or reduced income while you were too ill to work (or for your spouse to take care of you), paying for caregivers, modifying or purchasing new cars, houses or other equipment to support your needs to name but a few. With the Canadian Cancer Society recently reporting that the survival rate for cancer is now over 60%, with many other cancers far exceeding this rate, considering how you would cope financially in such a situation has become a pressing concern for many.
Below are some key features of critical illness insurance policies:
There is usually a waiting period on the policy i.e.: a time by which you must survive your illness following the initial diagnosis, before the policy will pay out.

This is usually very short, often between 15 and 30 days. The policies usually cover most major illnesses such as serious heart conditions, cancer, strokes, blindness, deafness, paralysis and others. 

There are no conditions on how you use the payment – once the lump sum has been made to you, you are free to use it as best suits you and your family. It is known as a "living benefit" as the lump sum is paid to you as the policy holder, instead of to a beneficiary.

In contrast to disability insurance, critical illness insurance is paid even if you are able to return to work following your diagnosis.
Disability Insurance
Your ability to earn income is your most valuable asset. Disability insurance is designed to protect you from a possible loss of income. What's the possibility of this happening? Below are some statistics on disabilities occurring at different life stages.
It may surprise you that just over 1 in 4 of today's 20 year-olds will become disabled before they retire.*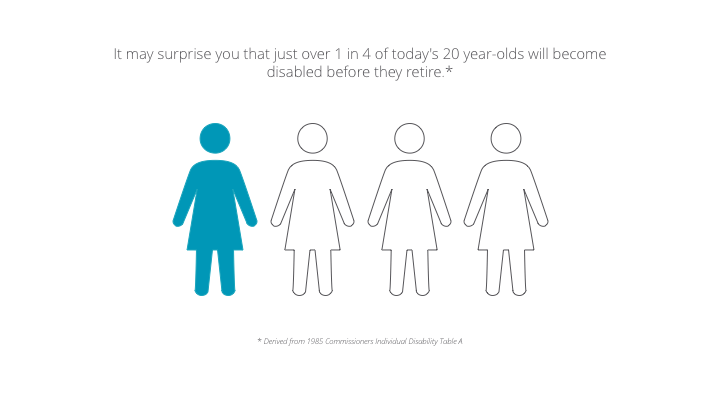 Why should you consider personal disability insurance?
Worker's Compensation only covers work related accidents.
Unemployment insurance only covers 15 weeks.
Canada Pension Plan: Are you comfortable relying on the government for a benefit that can change?
Group and association coverage can fill a valuable role in long-term disability protection.
However, the benefit may be limited by the definition of disability and coverage amount. Remember, a custom designed individual disability plan will provide you with guaranteed coverage and guaranteed premiums.
Protecting Business Owner Interests
GROUP BENEFIT SERVICES
For corporations, taking care of your employees is a vital part of running your business and, like any business owner, you want to give them the best you can without spending exorbitant amounts of money. That's why working closely with professionals like our team is a great decision for both yourself and your employees. We work hard to find you the perfect benefits solution to fit the needs of your business. We do not consider our job to be done until your business, your employees, and your finances are well taken care of.
We have worked with a wide variety of different businesses, all with their own specific needs. We customize our service to fit each of our clients' needs, while maintaining our tried-and-true approach and proven system to yield the best possible results.